Welcome back, everybody! I hope life is better for your football team than mine. Two of my favorite television shows will be premiering this week: American Horror Story and The Walking Dead. Both titles could be used to describe what is happening to my Kansas City Chiefs right now.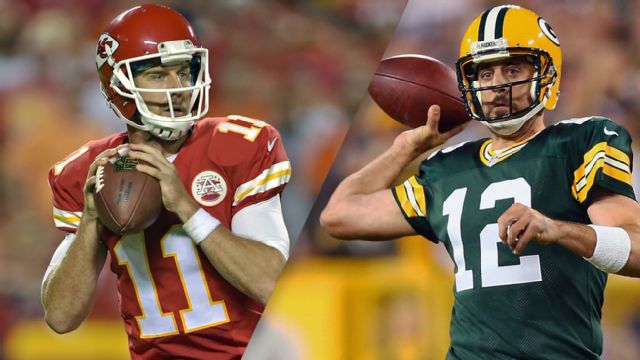 My Chiefs made a public spectacle of themselves yet again on national television losing 38-28 to Aaron Rodgers and the Green Bay Packers. The Chiefs broke two streaks that night--they lost for the first time at Lambeau, and they FINALLY threw a touchdown pass to a wide receiver. The best thing about that was Maclin and Kelce helped my fantasy team Just Gonzo finally win a game. Yay. The Chiefs are in the AFC West basement tied with San Diego. Yes, the Raiders have won 1 more game than both. There are currently 7 other teams in the AFC with the same record as the Chiefs including ALL of the AFC South teams, Miami, and Cleveland. Hey Kansas City, with the exception of maybe Indianapolis and Houston, this is not the company you want to keep. At least, my team still has a starting quarterback who is not injured which they can't say in Dallas, Chicago, New Orleans, and now, Indianapolis. Plus, while Alex Smith hasn't hit mediocre yet, at least he's not Colin Kaepernick, what happed to this guy?
There is going to be a game in London this weekend: the New York Jets vs. the Miami Dolphins, and that's all I've got to say about that.
My record has somewhat improved with my 10-6 score last week. My record to date is 27-21, not bad, but these teams are making it so difficult to pick winner. Fantasy players, if you have Jets or Dolphins players set them tonight or get up early tomorrow. The game airs at 9:30 EST. The only teams with a bye this week are New England and Tennessee. Also, I pick Thursday games early.
Sunday, October 4 2015
New York Jets vs. Miami Dolphins (London): New York
Houston Texans at Atlanta Falcons: Atlanta
New York Giants at Buffalo Bills: Buffalo
Oakland Raiders at Chicago Bears: Oakland
Kansas City Chiefs at Cincinnati Bengals: Cincinnati (You have know idea how much I want to pick the Chiefs.)
Jacksonville Jaguars at Indianapolis Colts: Indianapolis (I'm barely picking them, because they've been bad, but if Luck is a go, they have to be better than Jacksonville.)
Carolina Panthers at Tampa Bay Buccaneers: Carolina
Philadelphia Eagles at Washington Redskins: Philadelphia
Cleveland Browns at San Diego Chargers: San Diego
Minnesota Vikings at Denver Broncos: Denver
St. Louis Rams at Arizona Cardinals: Arizona
Green Bay Packers at San Francisco 49ers: Green Bay
Dallas at New Orleans: New Orleans (Come on, Saints! Give you fans a victory over the Cowboys.)
Monday, October 5, 2015
Detroit Lions at Seattle Seahawks: Seattle
Thursday, October 8, 2015
Indianapolis Colts at Houston Texans: Houston
I'm going to post two new entries this week. I will be live blogging the season premiere of American Horror Story: Hotel on Wednesday, October 7, and the season premiere of The Walking Dead on Sunday, October 11. I had fun live blogging The Walking Dead this spring, so I thought that I'd give it a whirl for the whole season.
Until next time, "Life is not about how fast you run or how high you climb but how well you bounce." ~Vivian Komori