The first quarter of the NFL season is over, and like the first few weeks of the season, it appears that only Seattle and Denver are living up to the preseason expectations. The Saints, Pats, and Chiefs are performing above expectations. All five teams are undefeated, and it doesn't look like anyone can stop them, well, maybe my Chiefs. I'm an eternal pessimist. If you have followed me, you know, as a Chiefs fan, I'm always waiting for the other shoe to drop. I'm conditioned to it. Tampa Bay is in complete disarray, and Josh Freeman has won his freedom. Pittsburgh and New York have yet to win a game (Hey, guys even Oakland has won one game). Can someone remind me why Jacksonville even has a team at this point?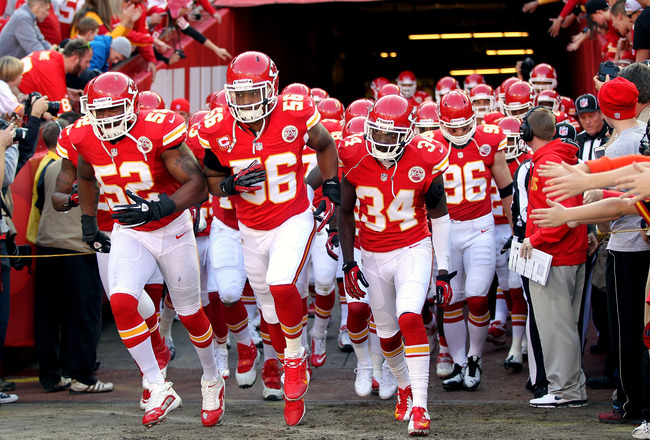 Then, there is Atlanta. Now, I know that Atlanta has a multiple injuries to their starters, but I can't see what is happening to them in the red zone. There is no reason why they should not have won that game against the Patriots. Time and time again they walked away with a field goal or nothing at all. Speaking of that game, did you guys see what Tony Gonzalez did? 12 receptions, 149 yards, and 2 touchdowns, I guess he did okay by you Falcons fans who were complaining. So, when are you guys going to start giving it to Matt Ryan? He made a number of mistakes in that game as well. By the way, if Tony Gonzalez makes one catch on Monday (what do I mean if), when he makes that catch Monday night, he will join Jerry Rice as the only two players in NFL history to have catches in 200 straight games.
Then, there is Jimmy Graham. The guy became the first Tight End to be named NFC Offensive player of the month. I love watching Jimmy play. He is like watching Tony Gonzalez without the blocking, although he is trying. I guess he's determined to show the NFL that he is a Top 100 player.
Disclaimer: I am not an expert on anything. Although, I had a pretty good week last week with a 10-5 record. My record for the year is 34-28. Fantasy fans, remember, Minnesota, Pittsburgh, Tampa Bay, and Washington have a bye this week. Good luck!!
Sunday, October 6
New England Patriots at Cincinnati Bengals:
New England
Baltimore Ravens at Miami Dolphins:
Miami
Kansas City Chiefs at Tennessee Titans:
Kansas City
Jacksonville Jaguars at St. Louis Rams:
St. Louis
New Orleans Saints at Chicago Bears:
New Orleans
Detroit Lions at Green Bay Packers:
Green Bay
Seattle Seahawks at Indianapolis Colts:
Seattle
Philadelphia Eagles at New York Giants:
New York
Carolina Panthers at Arizona Cardinals:
Carolina
Denver Broncos at Dallas Cowboys:
Denver
Houston Texans at San Francisco 49ers:
San Francisco
San Diego Chargers at Oakland Raiders:
San Diego
Monday, October 7
New York Jets at Atlanta Falcons:
Atlanta
Thursday, October 10
New York Giants at Chicago Bears:
Chicago
That's all, folks. Until next week,
"
Give the world the best you have and you'll get kicked in the teeth.
Give the world the best you have anyway."-
Kent M. Keith