A nervousness brews here at DianaDishes. My Kansas City Chiefs are undefeated, 3-0 after defeating the Philadelphia Eagles on Thursday Night Football in Andy Reid's return to Philadelphia. I should be happy. I really should be, but as a Chiefs' fan, I'm always
cautiously
optimistic, and I'm always waiting for the other shoe to drop (pardon the cliché). I'm happy...I really am, but that win on Thursday was the result of the defense playing awesomely. The offense...well, not so much.
The best thing about this streak, however, is that my Chiefs beat the Dallas Cowboys, and Justin Houston, dude, you are awesome (4.5 sacks on Michael Vick), and Donnie Avery could well be one of my favorite Chiefs in the near future. No Chiefs this Sunday, but they will be back next week against Eli Manning and the Giants.
The NFL is going through a lot of bizarre right now. From week to week, you never know what's going to happen. For example, two of last year's playoff teams, Minnesota and Washington, are 0-2. Miami and Kansas City are undefeated, while Pittsburgh is still looking for it's first win. Eli Manning and the Giants are only 2 years removed from the Super Bowl but have no wins thus far after being handed a spanking by big brother Peyton last week. The Falcons lost a number of players during last weeks game, including Steven Jackson and Kroy Biermann. Not to mention the return of the Anonymous player who made his rounds in the NFC South-first in Atlanta before moving to Tampa Bay, which is fast becoming New York Jets south, and it's only week three folks.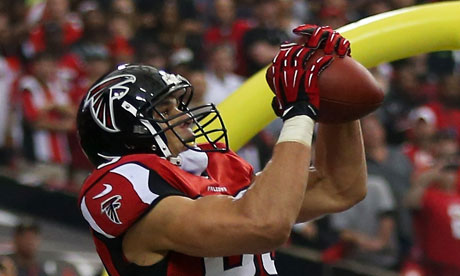 RECORD WATCH
: As I keep track of practically every award that Tony Gonzalez receives, I would be remiss if I didn't inform you that TG is one touchdown from tying Tim Brown and Don Hutson, five from catching Barry Sanders, and 8 from tying Shawn Alexander. He is 51 receptions (currently at 1249) from becoming only the second player in NFL history to have over 1300 receptions. The other guy is only Jerry Rice, the greatest player ever. FYI, he has an 197 game catch streak going...
On to the games...I picked my Chiefs to win earlier, but as I failed to produce a post in time I'm not counting it. My total for last week was a quite respectable 11-5 bringing my current record to 18-14.
Sunday, September 22
Houston Texans at Baltimore Ravens:
Houston
Cleveland Browns at Minnesota Vikings:
Minnesota
San Diego Chargers at Tennessee Titans:
San Diego
New York Giants at Carolina Panthers:
New York
Green Bay Packers at Cincinnati Bengals:
Green Bay
St. Louis Rams at Dallas Cowboys:
Dallas
Tampa Bay Buccaneers at New England Patriots:
New England
Arizona Cardinals at New Orleans Saints:
New Orleans
Detroit Lions at Washington Redskins:
Washington
Atlanta Falcons at Miami Dolphins:
Atlanta
Indianapolis Colts at San Francisco 49ers:
San Francisco
Jacksonville Jaguars at Seattle Seahawks:
Seattle
Buffalo Bills at New York Jets:
Buffalo
Chicago Bears at Pittsburgh Steelers:
Chicago
Monday, September 23
Oakland Raiders at Denver Broncos:
Denver
Until next time, "
The real glory is being knocked to your knees and then coming back. That's real glory. Thats the essence of it
."―
Vince Lombardi