Welcome back! The NFL Regular season came to an end last week, and we bid a fond farewell to playoff stalwarts the New York Giants (too little, too late), the Pittsburgh Steelers (couldn't overcome those weeks without Big Ben), the San Diego Chargers (Here's hoping Philip Rivers remembers he's Philip Rivers), the Chicago Bears (man, it will be tragic not seeing Jay Cutler pouting on the sidelines), the New Orleans Saints (Drew and Sean are getting the band back together next season), and the Dallas Cowboys (who Romo'd their way out of the playoffs). See ya, next season boys!
Several coaches not only had to say goodbye to the playoffs, but had to say farewell to their jobs as well. Black Monday saw 7 NFL Coaches cleaning out their offices: Romeo Crennel (Kansas City), Chan Gailey (Buffalo), Andy Reid (Philadelphia), Pat Shurmur (Cleveland), Lovie Smith (Chicago), Norv Turner (San Diego), and Ken Whisenhunt (Arizona). Rumors are swirling that more may be getting the ax as early as today. In addition to head coaches, GM's have been getting kicked to the curb as well including, Rod Graves (Arizona), Tom Heckert (Cleveland), Scott Pioli (Kansas City), A.J. Smith (San Diego), Mike Tannenbaum (New York Jets), and Gene Smith (Jacksonville). Many of these were expected (in the case of Scott Pioli hoped, wished, and protested for), but I will admit I was surprised by the firing of Lovie Smith and Ken Whisenhunt.
If you haven't heard, Andy Reid is about to be announced as the new head coach of the Kansas City Chiefs. Reid will be the twelfth head coach in Chiefs history, and the fourth since 2005. Sigh, I don't know how I feel about this signing. I'm not striking up the band just yet. I think I'm just going to take a wait and see approach. I mean, the Chiefs ended the season with a 2-14 record-the fourth losing season since 2005. When your team is in the basement, there is no where to look but up, right?
Ray Lewis announced that he would be retiring at the end of the Ravens run in the playoffs. I've always been a little ambivalent about Ray Lewis. I'll admit that I've never really quite known how to feel about him. I will say this about Ray Lewis. He is a heck of a football player. The man has been an out and out leader on the field-one of the most feared defenders even as his body was starting to turn on him. He is one of the most intense players to ever take the field, and I've enjoyed watching him play and will miss watching him explode from the Ravens tunnel.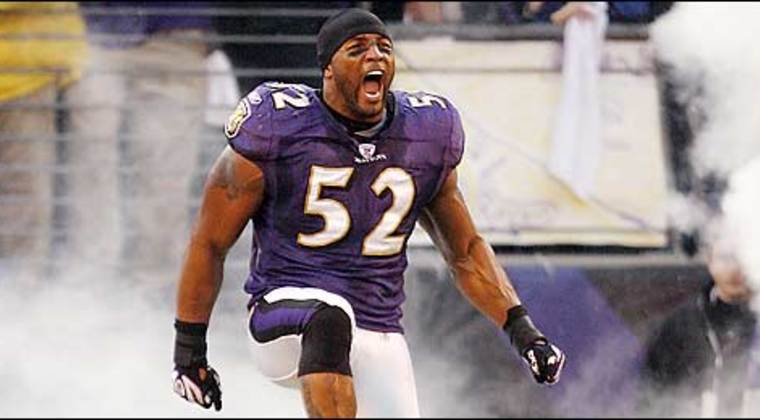 At the start of the season, I made my picks for the year. Let's see how they turned out, shall we?
AFC East-New England Patriots (Right on the money. 12-4 with a bye)
AFC South-Houston Texans (Correct.)
AFC North-Baltimore Ravens (Correct.
AFC West-Kansas City Chiefs (Eliminated. Could not have been more wrong. Y'all forgive me for this gaffe. Denver took the AFC West without much of a fight for the rest of the division. Heck, the Broncos were the only team with a winning record. Who thought Peyton would be back with such a vengeance? Yeah, everybody.)

Wild

C

ards-Pittsburgh (Eliminated), Denver (Won the division) Cincinnati made the cut. So in the AFC, I was 4 for 6. Not bad...I picked Houston to win it all. I don't think I'm going to stick with that pick.
NFC East-New York Giants (Wrong. Didn't see Washington taking this division. Not at all.)
NFC South-Atlanta Falcons (Correct with a bye)
NFC North-Green Bay Packers (Correct)
NFC West-San Francisco 49ers (Correct)

Wild

C

ards-Chicago (Eliminated. Adrian Peterson and the Vikings power ran their way into the playoffs.), New Orleans (Eliminated. Seattle and their Rookie QB made the grade instead)
I picked Atlanta for the NFC Champs. I'm going to stand by this pick, but they have me terrified with the way they have played as of late.
Even with some of those craptastic predictions, I ended the season with a 135-80 pick record. Not too shabby...
So, here are my Wild Card picks. I will say I was more comfortable with my Saturday picks than my Sunday picks.
Saturday, January 5
Cincinnati Bengals vs. Houston Texans: Cincinnati (I've pretty much lost faith in Houston)
Minnesota Vikings vs. Green Bay Packers:

Green Bay

(I think Aaron and the boys get it together.)
Sunday, January 6
Indianapolis Colts vs. Baltimore Ravens:

Baltimore

(Either of these teams are capable, and each team is playing with added inspiration)
Seattle Seahawks vs. Washington Redskins:

Washington

(If this were in Seattle, I probably would have picked Seattle. These teams are a close match up, and it really could go either way.
That's all I've got today. Enjoy your Wild Card Weekend! Until ne

xt week, "
I firmly believe that any man's finest hour, the greatest fulfillment of all that he holds dear, is that moment when he has worked his heart out in a good cause and lies exhausted on the field of battle - victorious."~
Vince Lombardi