I am thoroughly depressed. I realize that it has been over a week since Wildcard Weekend, but I'm still bitter about the Chiefs loss to the Colts. The Chiefs' bad omens began in the first half when they loss running back Jamaal Charles to a concussion. Most people, including myself, now saw 1/3 of the Chief offense sitting on the bench, but Alex Smith didn't see it that way and gave every Chiefs fan a false sense of hope by jumping out to a 38-10 lead. Chiefs' fans were ecstatic! We were 30 minutes away from seeing our beloved Chiefs end a 20 year playoff drought, but alas, it was not to be. The 28 point lead disappeared along with injuries to five more players. Andrew Luck and the Colts stabbed Chiefs fans in the heart with a one point 44-45 victory. Sickening...just...sickening.
The other games provided just as much excitement, not San Diego and Cincinnati, but the Saints, Chargers, and 49ers are now moving on to the Divisional rounds to take on the teams who were relaxing during their bye weeks. My picks were a mediocre 2-2 thanks to Kansas City and Green Bay where the wheels fell off of the band wagons...
Saturday, January 11
New Orleans Saints at Seattle Seahawks
In a rematch of their Week 13 meeting, the Saints travel to Seattle to try to avenge the 34-7 drumming at the hands of the Saints. I want to pick the Saints, but I think Russell Wilson and the 12th man will be too much-
Seahawks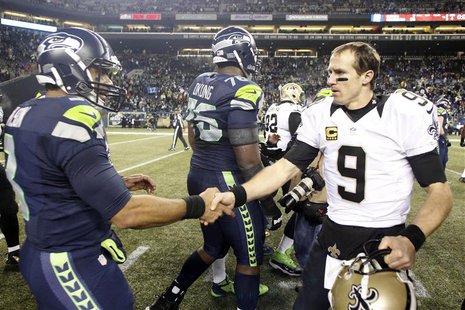 Indianapolis Colts at New England Patriots
This is the only game in which the teams did not play this year. Me thinks young Mr. Luck's fortunes may not fall his way today at Gillette-Patriots
Sunday, January 12
San Francisco 49ers at Carolina Panthers
Young guns Colin Kaepernick and Cam Newton will battle for the second time this season. The week 10 game saw the Panthers topping the 49er at Candlestick. I'm looking for a repeat of that game (hopefully with a better score)-
Panthers
San Diego Chargers at Denver Broncos
Philip Rivers and the Bolos, I mean, the Bolts are traveling back to Denver for a third meeting with the Broncos. The Chargers and Broncos split the season series with the Chargers winning the last match up at Mile High. The Chargers are on a roll, but I'm going to have to go with Pey-Pey-
Broncos
. This is one of those weekends where I almost hope I go 0-4. I really don't care for a single team I picked, but alas, they are the stronger teams going in. Enjoy your Divisional Playoff Weekend!
Until next time, good luck to your teams and
"May the odds be ever in your favor!"-
Suzanne Collins.